Disclaimer: This article does not provide any medical or health related advice.
Zentangle Videos
There is a video in the middle and one at the bottom of this article, showing how to create your own simple zentangles and zentangle patterns.
The Beginning Of Zentangle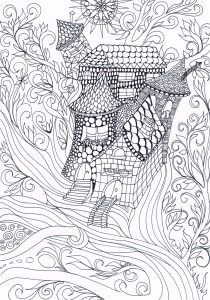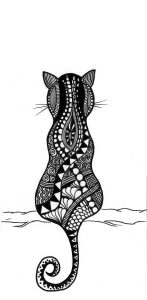 Zentangle art began with Maria and Rick. Maria made beautiful works of art and customers from far and near came to watch but also wanted to make their own beautiful art pieces. In addition to making art, Maria realized that during these sessions, she moved into a different sense of being – a flow state, feeling rich immersion, timelessness, selflessness, and effortlessness with each stroke. Rick understood this as being a form of Meditation. After discussions on how they could help others create their own art, they realized that their customers would be more than happy to learn the kinds of patterns that Maria used for background patterns to letters and so came about the Zentangle Method.
Zentangle For Beginners
The Zentangle Method of drawing is not only fast and easy to learn but it also allows you to create beautiful drawings with the use of structured patterns in the most relaxing way possible. These patterns are often referred to as tangles. Tangles are easy to create and simply require a combination of lines, dots, orbs, S-curves, and simple curves.
These simple yet amazing shapes are termed as Elemental Strokes in the art of Zentangle. Each pattern created is done on a tile. We refer to them as tiles because they can be easily assembled into a rather striking mosaic, however, although the word "tile" may suggest a hard surface, it refers simply to the size and shape. Zentangle tiles are made of paper or card for drawing on, and may be of archival quality for storage.
When creating Zentangle tiles, it's best to keep in mind that they are beautifully unplanned and non-representational. This allows the creator to stay relaxed and not stress about the final product. There is no wrong or right in this technique. While creating any Zentangle drawings, be sure to position your hand so that it stays completely relaxed.
Zentangle art is one of the most naturally flowing pieces of creation that you'll ever come across. All you need to do is to know the steps and you'll be on your way to creating many delightful surprises. The Zentangle method allows just about anyone to create images that promote increased focus, self-confidence, creativity, and a higher sense of well-being.
Zentangle Tutorial
The Zentangle Method has a few simple steps that can be easily followed. But you can also create something totally different if you choose. One form of the steps follows:
* Relax and make yourself comfortable. If you have tiles, then you can use those, if not, square paper or squares drawn out on paper will do.
* Corner dots – place a light dot on each corner of the tile.
* Border: Draw a light line, either curvy or straight to connect the dots and form your border.
* String – Inside the border, draw a series of straight or curvy pencil lines of any shape you like. These are called strings and are used to separate your workspace into sections. Your patterns will go inside these sections.
* Tangle – Your tangle is simply a sequence of strokes that make up your pattern. Your tangles are usually drawn in pen inside of the borders and strings. In this instance, the tangle is used as both a verb and a noun. In the same way that you'd dance, you simply tangle your tangles.
While creating your tangles be sure to do so with deliberate strokes without worrying about what the finished product looks like. Continue to focus on each individual stroke that you make and trust yourself that you'll know what comes next. Don't forget, there's no up or down so rotate that tile in whichever direction is comfortable for you.
* Shade – When you've finished creating your tangle, add different shades of grey to create a sense of dimension and contrast on your tile. Soon you'll see that your two-dimensional tangle gracefully transforms into a beautiful three-dimensional masterpiece. Paper blending stumps can also be used to blend the graphite. You can also add color to your tangle.
* Enjoy
The Zentangle Method works for several reasons. Those who've indulged in the Zentangle Method love it for the following:
* It is very simple to learn
* It is fun
* Each stroke is stress-free and easy to create
* With Zentangle, there are never any mistakes
* As you draw, you'll automatically know what to do
* The outcomes are never planned
* The final product is pure beauty
Benefits of Zentangle
Zentangling or zendoodling, allows you to discover new abilities and skills that you never previously acknowledged. It allows us all to create unexpected, beautiful results.
All of this occurs within a very short space of time. When you get into it, you'll realize that within just 15 minutes, you'll be creating something beautiful. For those who believed that they couldn't draw, it gives them a sense of self-confidence.
This drawing method allows any of us to tap into a more relaxed, focused state. It allows us to ignite our expressive and imaginative side as we create with confidence. According to many sources, the emotional, mental, and physical benefits surpass that of so many other activities. If you're feeling like you lacked something all of your life, Zentangle art just might be what you've been missing.
You'll regain the confidence that you lost and you'll be able to create or do anything that you desire.
As we conclude, we've just looked at the Zentangle Method and how to create beautiful art using it. Zentangling has several benefits that all bring out the best in us. It is used to increase focus and relaxation in those who pursue it. If you've been longing to finally tap into your inner source of creativity, the Zentangle Method is perfect for you!
Zentangle Patterns
And if you would like to gain some ideas of the kinds of patterns you could use within your zentangles, take a look at this video.