There is beauty in simplicity.
Coloring and especially using a coloring diary can be very helpful when you want to beat boredom or help reduce stress during lockdown or self-isolation but there are others things to keep your interest too. Puzzles help you in many ways and not just by burning time having fun. Let's discuss why playing puzzles is good for you!
Jigsaw Puzzles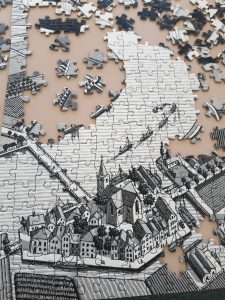 Have you ever had the time to sit down and solve a big puzzle like a 1,000 or even 2,000 piece jigsaw puzzle? The amount of effort you use in trying to fit all the pieces and recall where in the whole range of pieces you saw one that would fit next certainly made you exert your memory; and just like any other muscle the brain needs exercise. The more you do it the better you will get at it, recognizing patterns and remembering things like images and positions. This will greatly enhance your mental agility and apply to pretty much every part of your life. Puzzles are good for your short-term memory, which helps you with awareness and to store recent events from a couple of seconds to days ago. Your short-term memory will be very happy with you! This not only beats boredom but makes your brain stronger too. You can find online jigsaw puzzles or maybe you have some stored away somewhere that you could liberate and try?
Problems
Puzzles also represent problems and in turn improve your problem-solving skills. Being a creative and a critical thinker is a highly sought-after asset in any work environment and developing such skills should be of vital interest to you. In order to solve a puzzle you will need to look at it from different perspectives just like any problem in real life and there will be plenty of trials and errors before you get it right. Knowing how to handle things when they don't go according to plan, creating new theories and testing them out will teach you valuable lessons. Imagine how delighted your (future) employer will be with your improvement and how smoothly things will go for you if you keep improving these skills! This could help fit you for those jobs for people who get bored easily, if that's what you want? One of the puzzles that helps develop strategy and spatial visualization is chess. A good game to learn if you don't already know how to play and there are plenty of online games that will help you develop your skills in chess.
Spatial Visualization
Puzzles help us improve our Spatial Visualization which is of great importance in the fields of science and technology, as well as art. As an example let's look at astronomers. They have to mentally visualize the structures that compose our beautiful solar system and the intricate but very orderly motions of all the objects inside it. Now let's look at engineers. They need to create a mental image of the parts that interact in unison within the machine or building that they have been assigned to design or simply work with. Chemists must be able to understand and interpret formulae which can not only be seen as abstract numbers and figures but must also seen visually, to understand the different spatial structures that can make two organic chemicals, with the same atoms, behave differently because of their structure. Without a doubt each and every one of these people knows the importance of spatial skills in each of their work fields just as you do now. To have a broader idea in which fields Spatial Visualization could be applied to here is a list of jobs that these skills are essential for: Chefs, Architects, Surgeons, Pilots and NASCAR Drivers being just a few.
Crossword Puzzles
Crossword puzzles become educational by providing us with a challenge that drives us towards learning new words and thereby improving our vocabulary as well as our language, research and even spelling skills. If you don't want word puzzles, what about Sudoku? This is a logic puzzle (nothing to do with maths) and you use your powers of deduction to decide which symbol or number goes where.
Age is not an impediment for the betterment of yourself. Acquiring knowledge of new words and phrases through a fun puzzle game will accomplish that in a way that you won't even feel the passage of time.
By increasing your vocabulary, memory and improving your analytical, critical thinking and spatial skills it shouldn't be of surprise that you have benefited to the point of increasing your IQ also known as Intelligence Quotient. A research paper from the University of Michigan says that one can increase their IQ by four points if you spend as little as 25 minutes daily with puzzles! A number of newspapers publish crosswords online every day, ranging from dead easy to fiendishly cryptic. You will be sure to find something that suits your mood and level. You can also get crossword books.
Defeating Dementia Maybe
Exercising your brain in the areas of memory retention and problem solving will help you delay dementia and Alzheimer's. Several studies show that exercising your mind through puzzles and any other problem-solving activities, along with a healthy diet and exercise, helps you reduce the amount of brain cell damage that eventually leads to Alzheimer's. It does so by stimulating the healthy growth of fresh nerve cells and neurons and by strengthening their connections also known as dendrites. So even if you don't care about raising your IQ, preventing such illnesses is in your best interests: and the research studies show there is a direct correlation between the number of years that a person has played puzzles and the reduction in the probability of someone developing Alzheimer's later in life. Start soon and make it a part of your life to play puzzles so that you will protect your brain!
If you are caring for a person with dementia, there are various games you can get to help keep them occupied. Some places like "twiddle mittens", or "twiddle muffs" which are simple knitted rectangles, with shapes and items sewn strongly onto them, to give the person something to "twiddle" with and help overcome restlessness, agitation, plucking at clothing and possibly even self scratching. You can find a pattern for twiddle muffs here.
Neurotransmitter: Dopamine
Whenever you finish a puzzle you will feel satisfaction. This is produced by your brain releasing dopamine which is a neurotransmitter that manages your mood and feelings. This surge of dopamine is not only released when we finish the puzzle but every time we place the right piece in the right place, thanks to the pleasure of challenging ourselves and emerging victorious. Dopamine affects vital functions such as your mood, learning, memory, concentration, sleep and fine motor skills.
Managing Stress Levels
By having patience and sticking to an activity for a length of time you will learn how to manage your stress levels to the point that the game itself will make you enter a zen state or a dream-like state in which you will be impervious to outside stress and this will help you concentrate and focus on the problem you have before you. This incredible skill translates to any work environment where you will have plenty of distractions while trying to solve something under stress. This will inherently improve your mindset as you will understand that all you need is time and concentration in order to succeed. It will definitely increase your self-confidence and self-esteem as you overcome each problem at a time.
Check The Detail
Puzzles, especially the big ones with thousands of pieces, really make you look at things in detail. This in turn helps you become more attentive to detail as you go through those pieces that have minor differences in shape and color. That attention is pivotal for your success. There are myriads of problems everywhere in life where just a little attention to detail would have worked wonders in benefit for those involved.
NASA had a project of sending a rocket to a distant planet. They were working in conjunction with a team of scientists from overseas and through their calculations they made a mistake in converting from the imperial system to the metric system of measurements. The rocket crashed. This led to the loss of billions of dollars! If only they had paid attention to those little details.
Puzzles At Work
When you play puzzles and make it part of your life you will reap many benefits and by doing so you will increase your overall happiness. When we are happy it's far easier to focus on things and naturally our productivity will go mile-high into the sky. If you are very stressed and you struggle to focus on the task at hand, simply take a break and switch to a puzzle. That way you will have something else that is familiar and comforting: and knowing you can do it helps to reset your feelings. Plenty of companies are incorporating puzzles into their break rooms. Perhaps they should be renamed as bored rooms! The results can't be denied. Puzzles help you feel refreshed; and bolster your determination and self-respect, making it so that you come back to face work refreshed and strengthened to do so!